E.L. Konigsburg: 6 best moments from her books
The works of classic children's author E.L. Konigsburg are remarkable, both for the maturity of their themes and also for the skill with which they deal with adolescents' simultaneous feelings of inclusion and exclusion. Many of Konigsburg's books use the same fictional towns: Epiphany, N. Y., and St. Malo, Fla. She is one of only five authors to have won two Newbery Honors, and the only author to have been awarded a Medal and an Honor in the same year (for different books).
Here are some of our favorite moments from her books.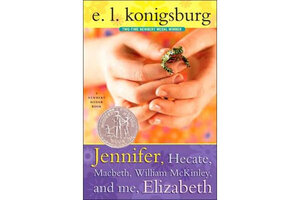 1.

"Jennifer, Hecate, Macbeth, William McKinley, and Me, Elizabeth"

This book tells the story of the friendship of two girls, one of whom claims to be a witch at their first meeting.

The meeting of Elizabeth and Jennifer:

"I said in a loud voice, which I hoped would sound stout red but came out sounding thin blue, 'You're going to lose that shoe.'

The first thing Jennifer ever said to me was, 'Witches never lose anything.'"