10 best books of June, according to The Christian Science Monitor
The Monitor's book reviewers are a diverse crowd and don't always see eye-to-eye. But they do know a good book when they see it. Here's what they most deeply appreciated this month. Let us know if you agree.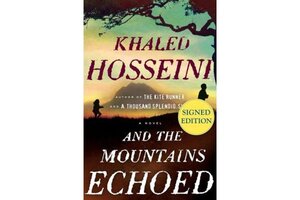 1.

"And the Mountains Echoed," by Khaled Hosseini

Everyone was wondering: Would the author of the global sensation "The Kite Runner" be able to do it again? The answer is yes – and in fact Afghan-American author Khaled Hosseini has only gotten better. "And the Mountains Echoed" is a novel told in the form of interlocking short stories. Chapters bounce from Kabul to Paris to the Greek Islands and back again, even as we catch glimpses of Afghanistan in time periods ranging from the 1970s till today. At the heart of the story is a pair of Afghan siblings separated as children, but Hosseini's real focal point – as in all his novels – is Afghanistan itself. You can read our full review here.