'Full Upright and Locked Position': 7 (sometimes sobering) facts about air travel
It's not news that air travel has changed over the last several years – mostly for the worse. In his new book, "Full Upright and Locked Position," former FAA chief counsel and aviation consultant Mark Gerchick explores today's experience of travel by plane, from the facts about airline food to the truth about why bags get lost.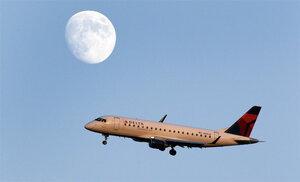 1.

No more cookies

To demonstrate how airline service has changed, Gerchick offers the story of Midwest Airlines, a carrier with the proud slogan "the best care in the air." For 25 years, the airline baked chocolate chip cookies on board and every passenger got two free. However, the airline merged with Frontier in 2010, and the new CEO decided that the cookies had to go. "It was determined that the cookie did not align with either the perception or the financial reality of a low-cost carrier," a company spokesperson said, as quoted by Gerchick. Competition was also a factor, said the spokesperson, who noted, "We were the only [similar] airline offering a free perishable snack."