"Game of Thrones": Top 10 worst things Joffrey has done
If you're a "Game of Thrones" fan, you hardly need reminding that Joffrey – king or not – is just about the most wretched character that George R.R. Martin has ever dreamed up. However, because Joffrey's bad deeds are so numerous, you might have trouble keeping track of them all. So while HBO pauses between Seasons 3 and 4, here's a quick recap of the worst of all of Joffrey's very bad deeds.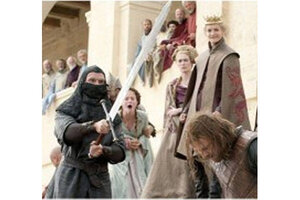 1.

Emulating the Queen of Hearts

I immediately knew that there would be no redemption for this character when he ordered the beheading of Ned Stark. Particularly because – before doing so – he made Sansa believe that he would let her father go, alive.