10 books about James "Whitey" Bulger
He's been charged with 19 counts of murder. He's also facing assertions that he was an FBI informant before he skipped town and spent 16 years living on the lam. The trial of reputed Boston mob boss James "Whitey" Bulger is full of drama, intrigue, and tales of death and betrayal. Interested in learning more about Bulger? You're in luck. He's been written about often over the years. Here are 10 titles you might want to check out.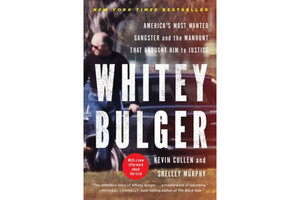 1.

"Whitey Bulger: America's Most Wanted Gangster and the Manhunt That Brought Him to Justice," by Kevin Cullen and Shelley Murphy

Boston Globe reporters Kevin Cullen and Shelley Murphy have been covering the Bulger story for years. Their combined backgrounds allow them to delve deeply into Bulger's past an criminal career. This book explores Whitey's youthful beginnings in a life of crime, the network of family and friends that connected him to Boston establishment figures as well its underworld, the crimes that put him on the FBI's most wanted list, and the process that finally brought him to justice.