10 best books of July: the Monitor's picks
From the struggle for power in Washington, D.C., to a Spanish dairy farm, to the Iraq war – here are the 10 July books to which the Monitor's book critics give the highest grades.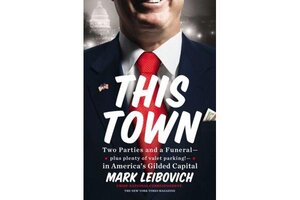 1.

"This Town," by Mark Leibovich

Do we really want to know this much about our nation's capital? Mark Leibovich, chief national correspondent for the New York Times Magazine, takes no prisoners in This Town, his tell-all account of life in Washington, DC. The media, lobbyists, politicians, their ambitious staff members – no one comes out looking very good in this dark but humorous account of the real lives of those who traffic in power. You can read the Monitor's full review of "This Town" here.