'The Everything Store': 5 behind-the-scenes stories about Amazon
From its humble beginnings as a small-time online bookseller to its expansion into everything from baby clothes to auto parts, Amazon is currently a major player in the American retail market. How did the company rise and how did the company's founder and CEO Jeff Bezos cement Amazon's current role in the US? Bloomberg Businessweek writer Brad Stone takes a look at the history of Amazon and its current operations in his book 'The Everything Store.' Here are a few glimpses into the company from his book.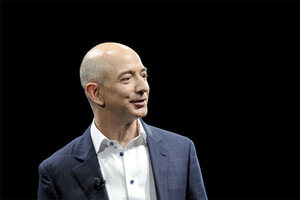 Gus Ruelas/Reuters
1.

Bezos's Wall Street beginnings

In the early '90s, Amazon founder Jeff Bezos was working on Wall Street, eventually joining investment firm D.E. Shaw & Co. The company was one of the first to use computer technology in its financial work. Bezos was later chosen by DESCO founder David E. Shaw to head up an effort to integrate the Internet into the business. Stone reports that, during one brainstorm session, Shaw and Bezos discussed an idea called "the everything store" which would be an online retailer that sold nearly everything and would serve as the middle man between consumers and those who manufactured products.

According to DESCO coworker Nicholas Lovejoy, Bezos seemed to appreciate the idea of long workdays at the company, stowing a sleeping bag and egg-crate foam in his office so he could sleep there if necessary (although Lovejoy says that he had the impression that the sleeping equipment "was as much a prop as it was actually useful").