'The Wizard of Oz': 10 facts about the classic movie
From a cackling green witch to a yellow brick road to Judy Garland singing 'Somewhere Over the Rainbow,' the 1939 movie 'The Wizard of Oz' is forever embedded in pop culture. This year marks 75 years since audiences experienced their first trip to Oz. In their book, 'The Wizard of Oz: The Official 75th Anniversary Companion,' Scarfone and Stillman tell many stories about how the classic movie came to be. Here's some of what they share.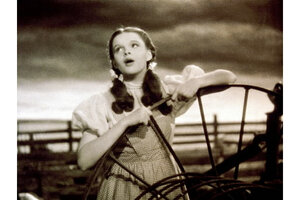 1.

Judy Garland's different look

Today it's hard to imagine "Wizard of Oz" protagonist Dorothy Gale (played by Judy Garland) any other way than with brown hair in braids and minimal makeup. But early on, the movie's production staff put Garland in a long blonde wig and heavy makeup, with defined eyebrows and lots of blush and lipstick. In L. Frank Baum's original book, Dorothy is portrayed as blonde. According to Scarfone and Stillman, Garland liked her initial look.