Bobby Orr: 12 things I learned from Bobby Orr's autobiography, 'Orr: My Story"
Here are a dozen things I learned from reading "Orr: My Story," by hockey great Bobby Orr.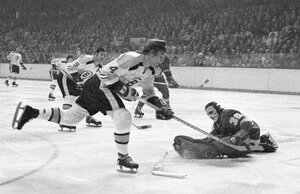 AP
1.

Pond-hockey product

Orr's exceptional skating and stick-handling ability, especially his ability to weave through traffic, was not something he learned from drills or training, but that grew naturally from countless hours spent playing pond hockey with his friends. These pick-up games, which he says still provide his fondest hockey memories, didn't limit the numbers of players per side, so he sometimes had to advance the puck through 10 opponents. This developed his instincts for the game, and convinced him that he wouldn't make a good coach or general manager since he "didn't think the game" but simply reacted.