'Downton Abbey': 8 stories from the set
The British TV period drama has captured the imagination of many worldwide. What is it like to play a member of the upper-class Crawley family or one of their servants? In 'Behind the Scenes at Downton Abbey,' writer Emma Rowley takes an insider's look at the hit show. Here's some of what she found.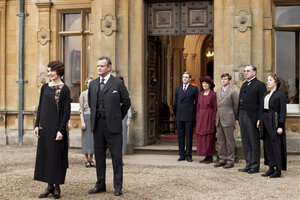 Nick Briggs/PBS/AP
1.

Not all happy rich and miserable poor

"Downton" creator Julian Fellowes says that, when crafting the world of "Downton," he wanted to avoid portraying the world at that time as wonderful for the aristocrats and terrible for the lower classes, a view he believes oversimplifies things. "For me, the contention that everything was horrible for everyone except a few unpleasant aristocrats is as untrue as saying everything was marvelous for absolutely everyone," he said. "The truth, as always, lies somewhere between the two.... I think that that sense of ordinary, non-heroic characters nevertheless being decent people who are trying to do their best is the central philosophy of 'Downton.'"