7 basketball books for March Madness and beyond
As March Madness takes hold, it's worth remembering that the great tradition of college basketball has spawned some really good books. Here are excerpts from seven books by some of the biggest names – coaches and players – in the business.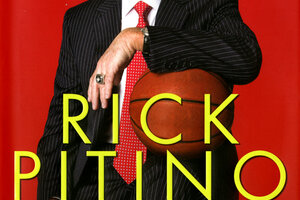 1.

"The One Day Contract: How to Add Value to Every Minute of Your Life"

By Rick Pitino and Eric Crawford

St. Martin's Press

272 pages

(Besides taking Louisville to an NCAA title in 2013 and Kentucky to one in 1998, Rick Pitino has coached the NBA's Knicks and Celtics.)

"Because I left [the University of Kentucky] when I did, after being on top for some great years, I had a good ending. Most Kentucky coaches have not. Adolph Rupp didn't; he was in a fierce battle to keep coaching. Joe B. Hall retired under fire despite winning a national title and reaching three Final Fours. Eddie Sutton left in turmoil. Tubby Smith never got his just credit for the outstanding job he did. His major problem was winning the championship too soon. So for me, leaving Kentucky personally wasn't a bad thing. I recognized I was falling into a trap with all that adulation; but I didn't really understand completely the consequences until I failed with the Celtics. If I hadn't left, I might not have learned that important lesson of humility."