10 best books of April 2014, according to Amazon's editors
Spring is all about the new, and according to Amazon editors, these titles are the best of the new April releases. From a look at the life of legendary writer John Updike to the story of a sculptor living in the time of the de Medicis, these titles will keep you engaged as the weather warms outside. Here's the full list, with thoughts on each book from Amazon editorial director Sara Nelson shared during an interview with Monitor staffer Molly Driscoll.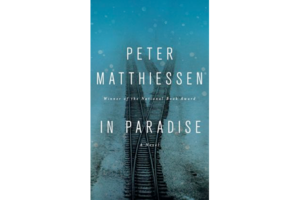 1.

'In Paradise,' by Peter Matthiessen

"The Snow Leopard" author Matthiessen tells the story of a group of people of all nationalities, religions, and backgrounds who arrive at former Nazi concentration camp Auschwitz to take part in a retreat. During the weeklong stay, the group plans to meditate and pray as well as to take all their meals and to sleep in the buildings once occupied by Nazi officers. "It's less grim than it sounds," Nelson says of the novel. "There's much more thoughtful spiritualism.... [I]t's a really strong portrait of these people and spirituality."