5 basketball books for NBA fans
The National Basketball Association's so-called second season, aka the playoffs, is when the intensity ratchets up and the serious fan hunkers down in front of the television oblivious to the approach of summer. Those who can't get enough of the current court wars can further whet their pro hoops appetites with some entertaining reading. Here are excerpts from five recent books about professional basketball and its coaches and players, ranging from a mega-biography of Michael Jordan to a behind-the-scenes look at the Magic Johnson-era "Showtime" Los Angeles Lakers.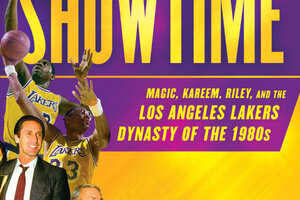 1.

"Showtime: Magic, Kareem, Riley, and the Los Angeles Lakers Dynasty of the 1980s"

By Jeff Pearlman
Gotham
496 pages

"Lost in all the talk about [Magic] Johnson the basketball player and Johnson the celebrity was that, at his core, he was a hometown kid. Though he lived fulltime in Los Angeles, Johnson returned to Lansing [Michigan] for long stretches every summer. He would knock on the doors of old neighbors, stroll down to the nearby park for softball games with lifelong chums, eat at local dives and stay up late into the night talking about the good ol' days. He had an unusually close relationship with his parents and nine siblings. They spoke regularly, and visited as often as possible. Johnson quoted his father's doses of wisdom on a regular basis. The most cited words usually came from a time when, as a teenager, he joined his dad, Earvin Sr., doing sanitation work. It was an icy day, and young Earvin rushed to empty a can, then jumped back into the warm truck. He father sent a glare his way. 'If you do this job halfway, then you'll be a halfway basketball player, you'll be a halfway student,' he told him. 'You have to do things the right way.' "