Sir Arthur Conan Doyle: 10 quotes on his birthday
Sir Arthur Conan Doyle was born on May 22, 1859 in Scotland. Doyle started his writing career while studying medicine at the University of Edinburgh. He opened up his own medical practice in Portsmouth, but because business was slow, he wrote short stories while waiting for patients. On Nov. 20, 1886, he published a story called "A Study in Scarlet" and introduced the world to detective Sherlock Holmes and his sidekick Dr. Watson. The character of Holmes was said to be based on Dr. Joseph Bell, a forensic scientist at Edinburgh University for whom Doyle had once clerked. Doyle went on to publish 56 short stories and four novels featuring Holmes. Today Holmes remains one of the most famous fictitious characters in the world.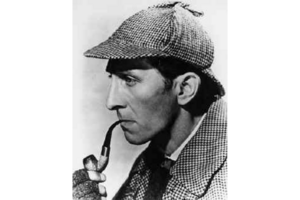 1.

Introduction

"My name is Sherlock Holmes. It is my business to know what other people do not know."

– from "The Adventure of the Blue Carbuncle"