6 golf books: Swing into spring with these new titles
As fairways green up in the Northern hemisphere, here are a handful of recent releases that golfers may reach for between rounds.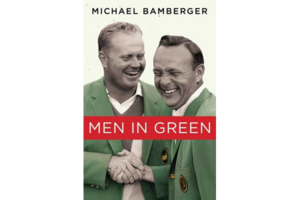 1.

"Men in Green," by Michael Bamberger

Michael Bamberger, a senior writer for Sports Illustrated, undertakes an unusual road trip to visit golfers he wanted to meet across the United States – nine "living legends," including Arnold Palmer and Tom Watson, and nine "secret legends," golfers who excelled beyond the limelight in other aspects of the sport, as a teaching pro, tournament director, tour caddie, and other positions. The trek takes Bamberger and a sidekick from a trailer park in northern California to Arnold Palmer's private warehouse in Latrobe, Pa.

Here's an excerpt from "Men in Green":

"Jack [Nicklaus] was a plodding player, often annoyingly so. But he was also careful, and he was never involved in any sort of rules dispute. He called penalties on himself in the rare instance when something went wrong, but there was never a time when anybody accused him of being anything less than completely faithful to the rule book. Hundreds of thousands of shots, and never an issue.

" 'When you start playing as a kid, your dad teaches you good sportsmanship and to live by the rules,' Jack told us. 'That's what my dad taught me, and I'm sure that's what Arnold's dad taught him. The rules are the rules. That's golf.' "