3 captivating biographies for women's history month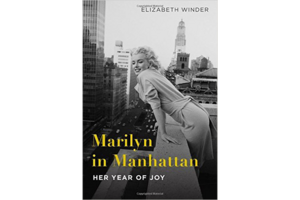 3.

'Marilyn in Manhattan: Her Year of Joy,' by Elizabeth Winder

It was specifically to escape the spotlight that Marilyn Monroe, in 1955 one of the most famous and instantly recognizable movie stars in the world, left behind her Hollywood life, her powerful agent, her sports icon ex-husband, and her contract with Twentieth Century Fox in order to move to New York and regroup. She'd been in a string of successful movies, including "Gentlemen Prefer Blondes" and "How to Marry a Millionaire," but she was feeling increasingly worn out by the movie-making world. "Studio gossip and cocktail chatter were the pillars of Hollywood friendships, which were often forged at clannish house parties," Elizabeth Winder writes in her terrific and heartfelt new book Marilyn in Manhattan: Her Year of Joy. "Marilyn hated these – what would she even talk about? – it wasn't as if anyone was dying to know which Turgenev novel she was reading."

Winder chronicles this "magical time of artistic discipline and self-discovery" with tremendous verve, showing readers a Marilyn Monroe they haven't seen before: an intensely human young woman losing herself in bookstores and art museums during the day and enjoying nightclubs with Frank Sinatra and dinner parties with Elsa Maxwell at night, marrying playwright Arthur Miller, and also forming her own production company in an effort to win more respect in her profession – a maverick move at the time.

Her fraught and ultimately overwhelming life in the spotlight waited for her at the end of her "year of joy," of course, but in the pages of "Marilyn in Manhattan," Elizabeth Winder opens the door just a crack to an alternate life the movie star might have lived.