5 exciting new romance novels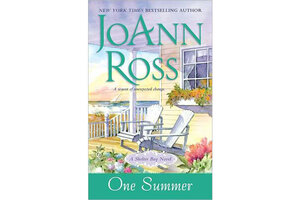 1.

One Summer, by JoAnn Ross

The lonely warrior is an iconic figure in American pop culture. He's the Dark Knight, the Lone Ranger, the Pale Rider, the Omega Man. He spends his time dancing with wolves and riding his horse into a moody sunset. He's hot and heroic – and lonely at the heart. And from the point of view of a feisty heroine? He's a challenge! The heroes in these five romances are channeling Clint Eastwood­ – they've chosen to right the world's wrongs rather than settle down into domestic bliss. The pleasure, of course, is watching a great man realize, in the words of JoAnn Ross's hero, that his beloved "fills a hole … I didn't even known was empty. Until I met you."

Joann Ross's One Summer is set in a small Oregon town where Marine photojournalist Gabriel St. James stops by to take wedding pictures for a friend, intending to drop back out of sight as soon as he can. Gabe has spent over ten years in war zones; he's battered and wary and determined to live a nomadic life as a photographer. Charity Tiernan is his opposite. Rather than a Vet, she's a vet, the owner of a tiny practice that also places rescue dogs. So when Gabe shows up at her door with a small, scruffy black dog, Charity decides that a decidedly unmanly pet is just what Gabe needs. This is a terrific summer read: watching the stubborn, determined Gabe open his heart not only to Charity, but a dog as well, is a true pleasure. He begins by measuring her against the war: "Kissing her was … an icy beer after days spent crawling across scorching desert sands." But he ends by realizing he cares for Charity for herself, and it's a short step from there to a promise that beats Semper fi: "I'll spend the rest of our lives trying to make you never cry again."