Reader recommendation: Day of Deceit
Monitor readers share their favorite book picks.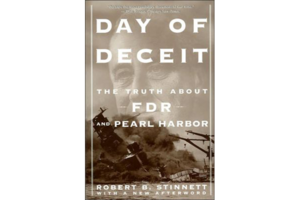 In Day of Deceit: The Truth About FDR and Pearl Harbor by Robert Stinnett, Stinnett makes good use of declassified documents and the National Archives to dispel many myths surrounding Pearl Harbor. He shows (and documents) that (a) FDR's administration carried out a careful step-by-step plan over the course of a year to provoke a Japanese attack, (b) US codebreakers had broken all the Japanese codes long before Pearl Harbor, (c) the Japanese fleet did not maintain radio silence on its way to Pearl Harbor, and (d) the resulting crucial information about the attack was withheld from the admiral in charge of the fleet in Hawaii, who additionally was ordered to cease his defensive efforts. This information was withheld from the Congressional inquiries in the 40's and in 1995. Spellbinding reading!