Reader recommendation: War Like the Thunderbolt
Monitor readers share their favorite picks.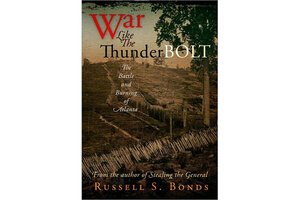 I recently finished War Like the Thunderbolt by Russell S. Bonds. Written in a narrative style, the book is packed with primary source material and fascinating profiles of key characters. Bonds is especially effective in connecting modern readers with devastating events and the personal experiences of those who lived through the fighting for and destruction of Atlanta during the summer and fall of 1864. He provides fair and nuanced portraits of the opposing commanders: Union General William T. Sherman and his Confederate counterpart John Bell Hood. Bonds' writing is compelling and pulls one back for more.