Reader recommendation: Farther Than Any Man
Monitor readers share their favorite book picks.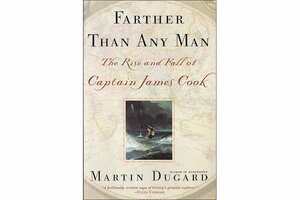 Farther Than Any Man: The Rise and Fall of Captain James Cook by Martin Dugard is a fascinating tale of maritime exploration and discovery which chronicles Englishman James Cook's multiple journeys of exploration. The author does a wonderful job putting the reader "on board" as Cook journeys to the far reaches of the globe. The book culminates with Cook's final journey and establishes an eerie parallel with that other great explorer Magellan. A GREAT READ for any student of history, but particularly for those who love maritime history.