Reader recommendation: Wheels on Fire: My Years of Driving ... and Surviving ... in Iraq
Monitor readers share their favorite book picks.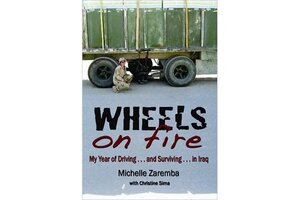 Wheels on Fire by Michelle Zaremba, a firsthand account of a female soldier's tour of duty in Iraq, deserves (and is earning) national attention. Even with America's current focus on the Mideast and our military involvement there, most of us still have little or no concept of the daily experiences or conditions to which we have exposed our military reserves, let alone the role that women, who now participate in frontline combat, play. I trust that others will be as impressed with this book as I was.