Going for a softer touch, Ruth Reichl renames her memoir
(Read article summary)
Ruth Reichl's memoir about her mother has morphed from "Not Becoming My Mother" to "For You Mom, Finally."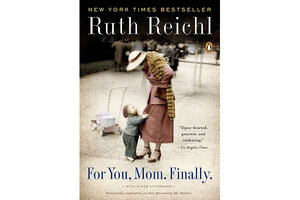 Ruth Reichl's stories of her mother have enriched her memoirs enough that a reporter found it only "odd" that "she was publishing another book about her mom on the heels of last year's "Not Becoming My Mother." As the writer soon learned, it was the same book, under the new paperback title "For You Mom, Finally."
The original title from the food writer and former Gourmet editor had been "perhaps forbidding," wrote USA Today, calling the new name a "Mother's Day-friendly moniker." The president/publisher of Penguin Books told the paper that the change came because "We realized that this new title would more effectively reach the intended audience" of mothers and daughters."
Indeed, when I asked on Twitter if anyone knew the reason for the change, one reader answered that it certainly made it an easier book to recommend to her own mother. (Another joked that the softer approach was classic Jewish-mom guilt from Reichl, a writer who had, after all, once dubbed her mother "The Queen of Mold.") And it's a sign of how much Reichl's stories resonated with readers that my neighborhood bookseller called it to my attention and asked me, as a fellow fan, why I thought the title had changed. It seemed a significant message.
From Reichl, the explanation was simple. The Washington Post reported that "she never liked the first title, thinking it didn't represent the tone of the book, but the sales and marketing people had insisted on it. She got her way with the paperback edition.
"The new title captures her feeling that after what she had written about her mother in previous books, she owed her this one: a truer exploration of a brilliant-but-bored woman who felt trapped by family life at the expense of career and personal fulfillment and who was determined that her daughter have anything but that life."
The new title may well be appropriate, said Washington City Paper, and Reichl writes about her mother with affection and compassion.
However, as is so often the case with daughters and mothers, even affection and understanding can't simplify a complicated connection.
The gist of the book, said the article, is that "while growing up Reichl saw in (her mother) an unhappy and inert woman, and her negative example inspired Reichl to pursue the life she has today. While the new title may be better at getting the Oprah-watching women's book club members into bookstores, those readers may now be in for a surprise once they get home and look inside the pages."
Rebekah Denn blogs at eatallaboutit.com.
Does Ruth Reichl's memoir about learning from her mother's negative example make a good Mother's Day gift? Join the Monitor's book discussion on Facebook and Twitter.