Happy Birthday, Nancy Drew!
(Read article summary)
Nancy Drew, the titian-haired sleuth beloved by American girls for decades, turns 80 this week.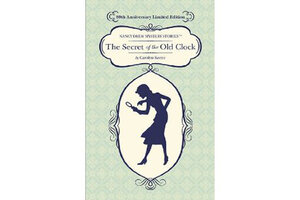 This week, a grand female icon of American culture turned 80. No, it's not Barbie. For literary-minded women, it's actually a much more revered figure: Nancy Drew. (After all, have Bette Davis, Barbara Walters, Hillary Clinton, Mary Tyler Moore, Joan Mondale, Fran Lebowitz, Beverly Sills, and Ruth Bader Ginsburg ever mentioned Barbie as a favorite role model?)
The titian-haired sleuth from River Heights, first appeared to the American public on April 28, 1930, when "The Secret of the Old Clock" was published. Since then "Nancy Drew" books have gone on to sell more than 65 million copies in the US and 200 million worldwide in 25 different languages. (She's "Kitty Drew" in Sweden and "Alice Roy" in France.)
There is also a new series of "Nancy Drew" graphic novels and, of course, there was the 2007 movie starring Emma Roberts.
Most of us who grew up loving the books now know that there was no Carolyn Keene (the author name that appears on every book's spine) and that Nancy has had various ghost writers over the decades. (For the full story of her creation, try "Girl Sleuth: Nancy Drew and the Women Who Created Her" by Melanie Rehak.)
To mark the occasion of Nancy's birthday, original publisher Grosset & Dunlap is releasing an 80th-anniversary edition of the first book, "The Secret of the Old Clock." The book will mark a return to the 1959 version of the story (with just a bit of updating to remove some unfortunate racial stereotyping).
For those of us who loved the old blue roadster (as opposed to the blue hybrid she drives in Simon & Schuster's updated series), it should be a treat. In fact, if you're looking for a Mother's Day gift for a woman anywhere between the ages of 18 and 80, you would be well advised to grab a copy.
Marjorie Kehe is the Monitor's book editor.
Are you a Nancy Drew fan? Share your memories. Join the Monitor's book discussion on Facebook and Twitter.