Facebook acquires Push Pop Press: bad news for publishers?
(Read article summary)
Publishing industry experts rue the (temporary, anyway) disappearance of a promising new form of e-book innovation.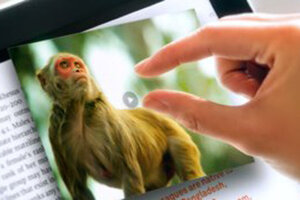 What's good for Facebook isn't necessarily good for books. That's the reaction of folks in the media and tech worlds regarding Facebook's latest acquisition.

Push Pop Press, an e-publishing startup founded by two ex-Apple engineers, announced Tuesday that it was being acquired by Facebook.

The idea behind Push Pop is brilliant, and a godsend for a publishing industry sorely in need of innovative ideas. It sought to create a "publishing platform for authors, publishers, and artists to turn their books into interactive iPad or iPhone apps – no programming skills required," according to Wired.com's Brian Chen. Push Pop published innovative multimedia e-books – think books that "read" like movies, with interactive graphics and words mingling across the page – for Apple's iPad and iPhone, including Al Gore's "Our Choice: A Plan to Solve the Climate Crisis."
In an April 2011 Wired article, Push Pop co-founder Mike Matas described it this way: "The app is the richest form of storytelling. [Push Pop Press] opens doors to telling a story with more photos, more videos and interactions."

Alas, Gore's "Our Choice" may be the last interactive e-book we see from Push Pop. As the LA Times Jacket Copy put it, Facebook isn't getting into the publishing business. Rather, Push Pop is getting out. According to Push Pop's website, "there are no plans to continue publishing new titles or building out our publishing platform that was in private beta."

"Although Facebook isn't planning to start publishing digital books, the ideas and technology behind Push Pop Press will be integrated with Facebook, giving people even richer ways to share their stories," the publisher continued.

No additional information was provided so those "richer ways to share stories" may simply mean better apps, a better iPad interface, or perhaps allowing Facebook users to create multimedia scrapbooks using photos and other content uploaded to Facebook.

All in all, though, the acquisition is bum news for publishers. Push Pop represented a fresh, new way to reinterpret books for the digital era – all the more critical at a time when the publishing industry is scrambling to remain profitable.

"Just when you think a startup stuffed with talent is destined for big things, they Pull a Patzer (a move where a very promising company sells too early to a bigger, cash-rich suitor)," writes Om Malik for tech news site GigaOm. "I had such high hopes for Push Pop Press and I thought they could redefine the idea of publishing…. Instead they are now going to be acquired by Facebook, where in all likelihood, they are going to work on photo albums or something similar."

A folks at Wired were disappointed, too.

"We sorely need independent innovation in digital publishing," writes Wired.com's Tim Carmody, in a blog post titled "This is Why We'll Never Have Innovative E-Books." "We need talented people who are willing to try things. Meanwhile, all of the money, attention and technological skill is marching in the opposite direction."

"So instead of an independent born-digital press, publishing next-generation multimedia novels (or magazines or textbooks or children's books or cookbooks), Facebook will probably get marginally better iOS apps," Mr. Carmody continues. "I'm happy for the team at Push Pop; they're a talented and experienced group, and Facebook is lucky to have them. But as a reader, and as a technology writer who's been writing about digital publishing for as long as I can remember, this news frankly bums me out."

Frankly, we're bummed too – we'd rather see that technology applied to innovative book publishing. But we're hoping Push Pop has inspired other e-publishers, some of which have already been working on similar projects.

"[O]verall [Facebook's acquisition of Push Pop Press] strikes me as validating the development of new kinds of multimedia storytelling tools, no matter how they end up being utilized," Evan Ratliff, founding editor of the multimedia nonfiction digital publisher the Atavist, told the LA Time's Jacket Copy.

Writes Jacket Copy's Carolyn Kelogg, "[T]he disappearance from Push Pop Press is hardly the end of innovative ebooks. They're just getting started."
We hope so.
Husna Haq is a Monitor contributor.