Mindy Kaling will reportedly write follow-up to her bestselling book 'Is Everyone Hanging Out Without Me?'
(Read article summary)
During a panel at Austin's South by Southwest conference, Kaling said she is writing another book. Kaling's show 'The Mindy Project' was recently renewed for a third season.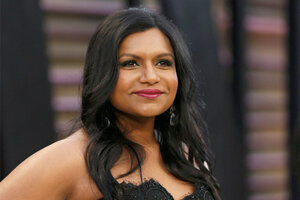 Danny Moloshok/Reuters
Mindy Kaling of Fox's comedy "The Mindy Project" recently announced that she is writing a follow-up to her 2011 bestselling book "Is Everyone Hanging Out Without Me?"
When Kaling revealed during a panel at South by Southwest in Austin that she will release another book, she "invited [the] audience to hold their applause until they read it," according to Bustle writer Margaret Wheeler Johnson.
Kaling's first book "Everyone" currently ranks at number 12 on the New York Times paperback nonfiction bestseller list for the week of March 16.
She is the creator, executive producer, writer, and star of "The Mindy Project," which was recently renewed for a third season. Kaling also starred on, wrote for, and produced the 2005 TV comedy "The Office."