J.D. Salinger: Three early short stories are released by Devault-Graves Agency
(Read article summary)
Three stories by Salinger printed in 1940s magazines have now been collected into print, e-book, and audio format. Devault-Graves Agency co-founder Tom Graves says it's the first time a Salinger work has legally appeared in electronic format.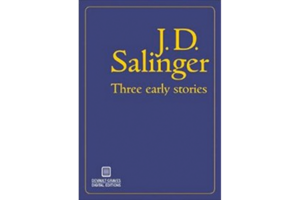 Three short stories by J.D. Salinger that were published in magazines in the 1940s have been collected for a new book titled "J.D. Salinger: Three Early Stories."
The book is being released by the Devault-Graves Agency and the stories are titled "Go See Eddie," "The Young Folks," and "Once a Week Won't Kill You."
According to Publishers Weekly, Devault-Graves Agency founders Darrin Devault and Tom Graves saw the 2013 documentary "Salinger" and became curious about the rights for the author's early work. They found out that "Eddie," "Folks," and "Week" were never the property of Salinger. After the Library of Congress and various lawyers looked into it, the Devault-Graves Agency was able to obtain the worldwide rights. Graves said "J.D. Salinger: Three Early Stories" is the first work by Salinger to be lawfully released in 50 years and is the first work by the author to come out as an e-book and audiobook legally.
 "J.D. Salinger: Three Early Stories" is being released in e-book, audiobook form, and print formats (print versions of the book will be sold on demand) and is now available.
Three (different) stories by Salinger showed up online this past November and, according to the documentary "Salinger," the author's estate will release five new works by Salinger by 2020. "Salinger" director Shane Salerno said this would include new short stories about the characters from his novel "Franny and Zooey" as well as a new piece about "The Catcher in the Rye" protagonist Holden Caulfield and writings about the author's time in World War II as well as the Hindu Vedanta religion.