'Inherent Vice': Will Paul Thomas Anderson's adaptation of Thomas Pynchon's novel be a winner come awards season?
(Read article summary)
'Inherent Vice' stars Joaquin Phoenix, Katherine Waterston, and Josh Brolin.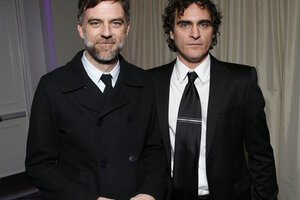 Todd Williamson/Invision/AP
More has been revealed about the upcoming movie adaptation of the Thomas Pynchon novel "Inherent Vice."
The movie stars Joaquin Phoenix, Josh Brolin, Owen Wilson, Benicio Del Toro, and Reese Witherspoon and is written and directed by Paul Thomas Anderson, who was nominated for the Best Director Oscar for his 2007 movie "There Will Be Blood" and nominated for Best Adapted Screenplay for his work on "Blood" and for Best Original Screenplay for the 1997 movie "Boogie Nights" and the 1999 film "Magnolia."
"Vice" was first published in 2009 and follows an investigator named Larry Sportello (portrayed by Phoenix in the film), also known as Doc, who is drawn into the problems of real estate businessman Mickey Wolfmann, with whom his ex-girlfriend Shasta (Katherine Waterston) is romantically involved.
According to Indiewire writer Kevin Jagernauth, those who have seen early screenings of the film have compared it to the movies "The Big Lebowski" and "The Long Goodbye." Meanwhile, Entertainment Weekly writer Chris Lee suggested "Vice" could be one to watch for Oscars season, calling "Vice" "one of prestige season's most befuddling and eagerly awaited titles."
"With Paul, he's interested in what might happen, not what should happen," Waterston told EW of the filmmaking process. "He doesn't walk onto set with a clear goal. That can be … surprising. It didn't feel chaotic; it felt thrilling. The set felt really vital. Like you are going into a question together."
Meanwhile, Brolin confirmed to EW that the movie may have its odd moments.
"A piece of fruit plays a major role," he said. "It's frozen. And it's my friend. Even talking about it now is making me chuckle."