Critics: Miranda July's first novel 'The First Bad Man' is a well-done transition to the form
(Read article summary)
July's upcoming book has received many positive reviews, with critics calling it 'compelling' and 'visionary,' though some felt that parts of the story were contrived and that some sections tried too hard to shock the reader.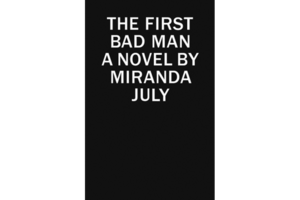 Miranda July is releasing her first novel with the publication of the book "The First Bad Man," which hits shelves on Jan. 13. 
July has written short stories, including the collection "No One Belongs Here More Than You," and has directed and starred in films such as "The Future" and "Me and You and Everyone We Know." Her upcoming book "The First Bad Man" centers on Cheryl Glickman, a woman whose intense fantasy life is disrupted when her bosses ask her if their young daughter can stay with Cheryl.
Amazon named "Bad" to its list of the best books of January and Amazon editorial director Sara Nelson noted it's not exactly a comfortable read. "This is a very weird book," she said. "It's purposefully disturbing… [it's] very complicated."
It's also received other positive reviews, with Library Journal giving it a starred assessment. "This well-written, compelling novel will delight the open-minded reader looking for something new," Kate Gray of Massachusetts' Worcester Public Library wrote. "It will satisfy July's fans and win her many more." And Publishers Weekly wrote that July's move from short stories was "successful." "July's writing is strange and beautiful, with enough cleverness woven into the characters' strange fantasy lives to keep readers contemplating the family roles and games adults undertake." Bustle writer Caroline Goldstein also named "Bad" on her list of the best books of January, writing of her experience with the book, "I found myself laughing and cringing in equal measure, and even if I don't totally understand everything July is trying to say or do here, I've become a believer."
Meanwhile, Karina Longworth of Slate wrote that "The First Bad Man feels visionary," though she noted that "the tissue connecting these segments into an overarching narrative is sometimes a bit too neat (coincidences abound), and sometimes compromised by the fact that Cheryl spends much of the book as a pathologically solipsistic unreliable narrator, although that's also a selling point – July has an enviable talent for sketching inner life as all-consuming." And Kirkus Reviews found that "[the book's] strange details sometimes seem to slide into heavy-handed attempts to shock, at their best, they deliver an emotional slap made sharper and more fitting by their oddity. A sometimes-funny, sometimes-upsetting, surprisingly absorbing novel that lives up to the expectations created by July's earlier work and demonstrates her ability to carry the qualities of her short fiction into the thickly fleshed-out world of a novel."