'Little Women': Is a remake happening?
(Read article summary)
Sony Pictures has brought on writer, director, and actress Sarah Polley to adapt Louisa May Alcott's book for a new screen version.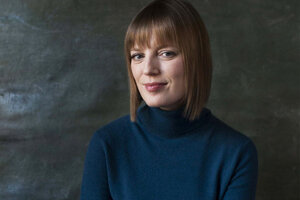 Victoria Will/Invision/AP
Will there be a new movie version of Louisa May Alcott's classic novel "Little Women"?
According to TheWrap, Sony Pictures has brought on screenwriter Sarah Polley to write a script for a new version of the story. Polley was nominated for an Best Adapted Screenplay Oscar for her work on the movie "Away from Her" and has directed such films as the 2011 movie "Take This Waltz," which she also wrote, and 2012's "Stories We Tell." 
Polley has acted in such projects as the HBO TV series "John Adams" and the 2004 movie "Dawn of the Dead."
"Little Women" has of course been adapted before, notably in film versions starring Winona Ryder (1994), June Allyson (1949), and Katharine Hepburn (1933) as heroine Jo March. The most recent version, the 1994 film starring Ryder, also starred Claire Danes, Trini Alvarado, and Kristen Dunst as Jo's siblings, Susan Sarandon as their mother, and Christian Bale as their friend Laurie. Monitor film critic David Sterritt wrote that the 1994 movie was "smart … and sweet … with lovable characters in a story that's still compelling after all these years…. The film's depiction of 19th-century life in Concord, Mass., is more nostalgic than realistic … but their story is so lovingly rendered that it's easy to overlook the lack of naturalistic detail. What makes the movie a superior specimen of traditional screen storytelling is largely the exquisite care director Armstrong has taken to make every shot as radiantly appealing as possible…. The performances follow suit, bringing out the best in all the characters."