J.K. Rowling apologizes on the Battle of Hogwarts anniversary
(Read article summary)
As the fictional anniversary of a 'Harry Potter' battle was celebrated, Rowling took to social media to apologize to fans for killing off a beloved character. More may be coming. 'I thought I might apologise for one death per anniversary,' the author wrote.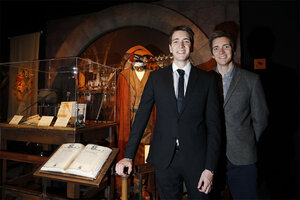 Benoit Tessier/Reuters
"Harry Potter" fans, J.K. Rowling feels your pain.
Many "Potter" fans celebrate May 2 as the fictional anniversary of the Battle of Hogwarts, the climactic fight in which Harry and his friends took on the evil Lord Voldemort and his forces.
(Warning! Spoilers follow if you haven't read all the "Potter" books….)
Unfortunately, the battle cost many fictional characters' lives, and many were beloved characters. One who is the most mourned is Fred Weasley, older brother to "Potter" character Ron.
If you still haven't quite gotten over the departure of Fred, Rowling would like to officially extend to you an apology.
If you were most gutted by the death of mild professor Remus Lupin, his wife, Auror Nymphadora Tonks, or another "Potter" person? Your apology may be coming soon.
House elf Dobby didn't die during the Battle of Hogwarts, but maybe Rowling will apologize later for his death, too. We can only hope.