Gulf oil spill: Will Obama bring it up at the G8, G20 meetings?
Several nations that will be represented at the G8 and G20 have deepwater drilling off their shorelines. So they have an interest in hearing any remarks from Obama about the Gulf oil spill.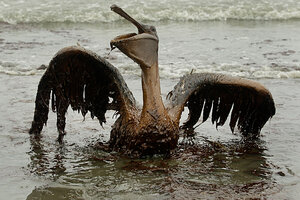 Charlie Riedel/AP/File
President Obama has made four trips to the Gulf of Mexico to show residents he cares about the BP oil spill. He addressed Americans this week from the White House on the battle against the spreading oil slick. He also chastised the executives of BP, one of the largest companies in the world.
But when he travels to Canada at the end of the month for meetings of the Group of Eight and Group of 20, one of the world's largest environmental disasters is not on the agenda.
The G8 and G20 gatherings, which take place June 25 through 27, will be mainly oriented toward financial reform and ways to keep the world economy from slipping back into recession. But that might change, say observers of the meetings.
IN PICTURES: The Gulf oil spill's impact on nature
When the oil-rig explosion took place on April 20, the formal agenda had already been agreed to. In addition, several nations that will be represented at the gatherings have deepwater drilling taking place off their shorelines, so they have an interest in making sure there are no more disasters like the Gulf oil spill.
"It may get on both the G8 and G20 agenda," says John Kirton, director of the G8 Research Group at the University of Toronto. "It is not part of the preplanned discussion at either summit, but when they get together, they can talk about anything they want."
On Friday, the White House released a letter Mr. Obama sent to his G20 colleagues. "We must act to strengthen the recovery," he wrote, adding, "[W]e should complete the work of financial repair and reform."
The closest Obama comes to discussing the Gulf disaster is a sentence at the end of the letter: "In Toronto, I also look forward to working on our action agendas on issues ranging from energy and development, to governance reform of international financial institutions."
If the oil spill is brought up, world leaders could do more than just commiserate with Obama. They could mandate better coordination in deep-sea oil drilling, Mr. Kirton says. They could agree to share technology on better ways to do it, and they could mandate higher standards on drilling rigs. Or, they could appoint a committee to make recommendation for the next time they meet – in Seoul, South Korea, on Nov. 11 and 12.
Barry Bosworth, a former presidential adviser, says he expects Obama will report to his fellow world leaders about what is happening with the spill. "But there is nothing they can do, and there is nothing he can do," says Mr. Bosworth, a senior fellow at the Brookings Institution in Washington.
If Obama were to ask world leaders for advice, Bosworth says he might hear from the Europeans about how they require a lot more redundancy in offshore drilling.
"Not only do they require two blowout preventers (BOPs) at the sea bottom, they also install machinery that can destroy the well," Bosworth says. The United States requires only one BOP. "The Europeans have a completely different approach."
It would not be first time that leaders at such a meeting showed their concern over an oil spill. In 2002, an oil tanker, the Prestige, sank off the northwestern coast of Spain. The vessel had only a single hull, which cracked, releasing 20 million gallons of petroleum along the shoreline.
In 2003, world leaders at the G8 summit in France discussed the shipping disaster, Kirton says. Many wanted to mandate an international rule for double hulls.
"The Japanese resisted, since they import a lot of oil and their tankers are not double-hulled," says Kirton. "But the world leaders made considerable progress."
Besides the Europeans, meeting participants with offshore drilling experience include Canada, Australia, Brazil, China, Indonesia, Mexico, and Russia.
Mexico will host a climate-change conference in Cancún in December. "With the issue of clean energy versus dirty energy, President Felipe Calderón could say something about the Gulf spill," Kirton says.
The Canadians might want to discuss safety issues as well since there are deepwater wells off the coasts of Newfoundland and Labrador. "Some of the drilling goes deeper than the Deepwater Horizon [the rig that exploded and sank]," says Kirton. "That water is much colder, so it would be tougher to control any leak."
The US and Canada also have an interest in any drilling in the Arctic, and an oil spill there could be devastating. This could mean that Canadian Prime Minister Stephen Harper could be quite open to a discussion about the Gulf incident. "If Obama says he thinks it's important and wants to talk about it, no way is Prime Minister Harper going to say, 'I don't understand,' " says Kirton.
Related: