EPA halts imports of Chinese ATVs, off-road motorcycles
Four Chinese ATV and motorcycle manufacturers lost permission to import. The EPA found their certificates of compliance with air-quality standards had false or incomplete data.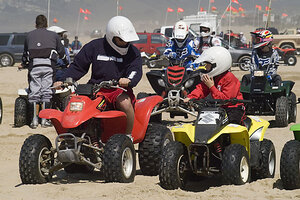 Newscom/File
Chinese off-road cycle and all-terrain vehicle manufacturers hit a big pothole Wednesday as the Environmental Protection Agency withdrew permission to import and sell up to 200,000 such vehicles because they may pollute more than had been claimed.
After a lengthy investigation, the agency said it had found that certifications of compliance with US air-quality rules submitted in 2006 and 2007 actually "contained false or incomplete information" about pollution levels from the vehicles.
It was the first time the agency has ever voided certificates that had already been issued. The certificates had been issued to the US subsidiaries of four of China's largest ATV manufacturers: Hensim USA (City of Industry, Calif.); Loncin USA (Hayward, Calif.); Peace Industry Group (Norcross, Ga.); and Seaseng (Pomona, Calif.).
The certificates were issued, based on applications compiled by MotorScience Enterprise, a consultant to the companies, the agency said in a statement. The EPA also said it believes "MotorScience Enterprise intentionally submitted false or incomplete emissions information."
EPA said it is considering enforcement action that "could lead to significant financial penalties against the businesses that manufactured or imported these types of recreational vehicles."
While the move affects manufacturers and retailers, it does not affect consumers who have already purchased the models involved, the agency said.
"A consumer who owns a model that was covered by these voided certificates is not responsible for these companies' wrongdoing and can continue to use the vehicle," Cathy Milbourn, an EPA spokeswoman, said in an e-mail.
The EPA, she said, is considering enforcement action under the Clean Air Act, "which could lead to significant financial penalties against the businesses that manufactured or imported these types of recreational vehicles."
Since the manufacturers did not properly test the emissions from their product, the EPA said in its statement, it could not assess whether the vehicles met US emission standards or not. Recreational vehicles can emit substantially more volatile organic compounds, nitrogen oxides, and other pollutants than permitted under EPA standards unless they have proper controls, the agency noted.
Riders seemed ready to take the bump in their stride.
"Certainly our members are always looking for a wide variety of products," said Peter terHorst, a spokesperson for the American Motorcyclist Association and All Terrain Vehicle Association. "But as an association, we feel there has to be a minimum standard for performance when it comes to emissions standards."
Click here for a (.pdf) list of affected brands and machines.
Representatives for MotorScience Enterprise did not return phone calls.