US News college rankings: Here are the Top 5 value schools
US News college rankings were released Tuesday and, not surprisingly, Harvard, Princeton, and Yale grabbed the three top spots. But US News also rated the colleges and universities by value. Here are the Top 5 high-quality national universities whose typical financial aid package covers the most college costs, including books and transportation: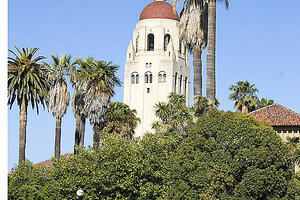 Newscom/File
5.

Stanford University

Stanford gives 49 percent of its students need-based grants, the lowest share of the Top 5 value universities, according to the US News college rankings. And it has the second-highest tuition and fees: $39,201. Nevertheless, its aid package on average covers a generous 69 percent of total costs, making it the No. 5 best value national university on US News college rankings. That's not even counting the great weather.