Where unemployment is falling: a tale of six 'most improved' states
In July, the unemployment rate declined in more states than it rose. The changes were not dramatic, but this news from the US Labor Department on Friday highlighted the uneven pace of economic recovery in the 50 states.
Here's a look at six states that have made the most headway against unemployment this year. The beginning of the year arrived when the total number of US jobs had reached a recession-related low point.
This tale of six states reveals trends that are taking root elsewhere in the economy.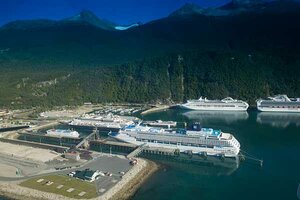 Newscom
6.

Alaska (unemployment down 0.9 percent)

One of the most-improved states also happens to be America's northern-most. The jobless rate in Alaska has fallen from 8.6 percent at the end of 2009 to 7.7 percent in July, according to the new Labor Department data.

Alaska, of course, is home to Sarah Palin, the Republican politician and foe of big government. But economically, the state happens to be the largest recipient of federal aid under President Obama's American Recovery and Reinvestment Act of 2009. The act has poured an estimated $3,145 per capita into the state's arctic economy, according to estimates by Pro Publica, an investigative news website. That compares to a national average of $1,168 per capita.

That influx of money has played a role, boosting both direct government employment and private contracts from the government. Mining and logging employment has also risen substantially this year.