Online coupons: Four ways you can save money online
Online coupons are shaking up the advertising industry, according to a new report from Borrell Associates. The local ad research and consulting firm in Williamsburg, Va., forecasts the online coupons business will grow almost 14 percent in 2011, reaching $9.1 billion. That's still small compared with an overall ad market forecast at $238.6 billion. But its fast growth portends big changes in the way you get your coupons and, ultimately, how you shop. Here are four strategies to take advantage now of the expected flurry of online coupons: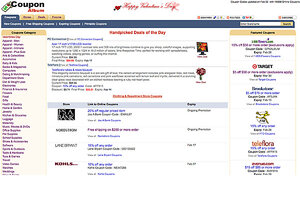 CouponAlbum/PRNewsFoto/File
1.

Don't just clip, print.

Although direct-mail coupon packs are still the largest advertising medium, they're poised to decline as online coupons take hold, says Gordon Borrell, CEO of Borrell Associates. While online coupons represented 4.6 percent of redeemed coupons last year, they'll account for 20 percent by 2014, his company forecasts. That means consumers can snag a good deal by looking for online coupons. "You have loads of people searching for deals and printing out coupons," he says. "They're some amazing deals to be had out there."