Auto sales: seven cars in fast lane despite slow economy
Auto sales in the US fell sharply in August, compared with numbers that were juiced a year ago by the federal "cash for clunkers" incentive program. But when you compare sales so far this year with the first eight months of 2009, industry sales have at least moved in a positive direction. Here are the top-gaining models for each of the seven biggest car sellers.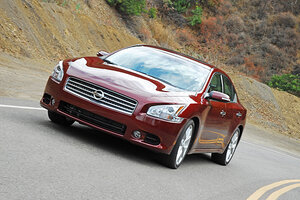 Newscom
1.

Nissan Maxima

Sales up 10,648 this year

Nissan's overall sales are up 14 percent this year, and it's been getting media attention for its soon-available Leaf electric car. But for now the Maxima sedan is the model that's been maximizing Nissan's performance. Sales so far this year total 43,000, up more than 10,000 from the first eight months of last year. The company's Armada, Rogue, Frontier and Xterra are also doing well.