Burger King going private? Whopper is safe, but...
Burger King stock soared 15 percent Wednesday on reports that it was in talks to go private with Brazilian investors. The British private equity firm supposedly arranging the deal originally denied the report. Then new reports emerged. What might change at Burger King, the world's No. 2 fast-food chain, under new owners? Here are our Top 5 changes (click on the right arrow to see each item):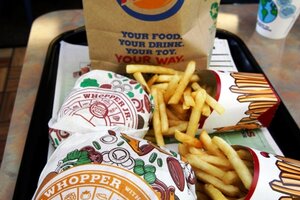 Paul Sakuma/AP/File
5.

Burger King: more than the Whopper

Burger King could see the continued rollout of new food items. In its just-ended quarter, Miami-based Burger King saw a sales surge when it offered fire-grilled ribs. It's already set to roll out new premium breakfast products this fall and introduce Seattle's Best Coffee in North America. Can the Burger King Whopper com Gostinho de Churrasco – a bacon-laced Whopper already sold in Brazil – be far behind?