Will hurricane Earl rate in Top 10 most expensive hurricanes?
Hurricane Earl is threatening Cape Cod's expensive real estate. But it takes a lot more to be one of America's Top 10 costliest hurricanes. Which hurricanes made the list? Click the right arrow to see.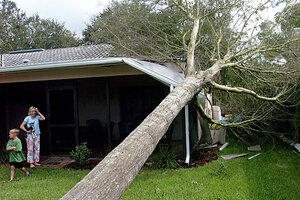 Newscom / File
10.

Frances (2004) – $10.3 billion

Lasting from Aug. 25 to Sept. 10, 2004, Frances claimed seven lives as it rolled up the length of Florida, faded into a tropical depression, and moved across Alabama, Georgia, Tennessee, Kentucky, West Virginia, Pennsylvania, New York, and Vermont, before blowing itself out over Canada. At the time, it caused $8.9 billion of damage, according to NOAA's Hurricane Center. In today's dollars, that works out to be $10.3 billion.