Labor Day quiz: What are the hot spots in a cool jobs market?
The US job market is in rough shape, but there are some signs of progress as well. Here's a Labor Day quiz that sheds some light on where opportunities lie within a mostly tepid job market.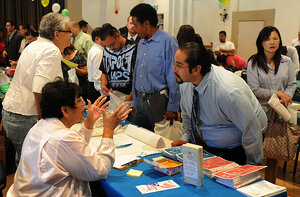 Newscom
It's no secret that the US job market is in rough shape. As Americans take an end-of-summer break for Labor Day, there are some signs of progress but also indications of just how challenging it is to get jobless Americans back to work.

Here's a quiz that sheds some light on where opportunities lie within a mostly tepid job market.

It's just five questions. You won't be asked to name the official unemployment rate (since you already know it's 9.6 percent) or about the big jobs gap to be filled (the US has 130 million jobs now versus nearly 138 million at the end of 2007). Answers to all questions are at the end.

Question one
The vast majority of states have more jobs now than they did in January. The five states below are the biggest job winners (measured as a percentage gain during the six months from January to July, the latest state-level numbers available). Which of these tops the list of fast-gaining states during that half year?

A) Delaware
B) Oklahoma
C) North Dakota
D) Indiana
E) Massachusetts

Question two
How many states, in addition to making headway against unemployment, have seen their job base expand by more than 1 percent in the six months between January and July?

A) 2 states
B) 11 states
C) 17 states

Question three
The Labor Department predicted last year that the nation will add about 15 million new jobs by 2018. Can you match these fast-growing occupations with the number of new jobs expected between 2008 and 2018?

Occupations:
Postsecondary teacher
Registered nurse
Computer software engineer/applications
Truck driver
Accountant/auditor

Job growth (pick one number from below to go with each occupation above):
A) 582,000
B) 279,000
C) 257,000
D) 233,000
E) 175,000

Question four
The long-term job potential of an industry or occupation isn't necessarily an indicator of how it's done lately. Three of the following industries have added significant employment in the past year, and three have posted big job losses. Which are the three job winners?

A) Mining (including oil and gas)
B) Architectural and engineering services
C) Insurance
D) Temporary help services
E) Health care and social assistance
F) Construction
Question five
The American work force is among the world's most educated, despite the justifiable public concern about how to improve US schools. This translates into higher incomes. Of these seven nations, which two have a higher share of college educated adults than the US?
A) Britain
B) Canada
C) Germany
D) Japan
E) Netherlands
F) South Korea
G) United States
That's the end. To see answers, click to the next page.

Labor Day quiz answers
Question one
Answer: North Dakota has done the best, with nearly 2 percent job growth this year. Indiana is just a hair's breadth behind.
Question two
Answer: 17 states have job growth above 1 percent this year.
Question three
Answer: The predicted job gains for each occupation by 2018 are:
Registered nurse: 582,000 new jobs
Accountant/auditor: 279,000 new jobs
Postsecondary teacher: 257,000 new jobs
Truck driver: 233,000 new jobs
Computer software engineer/applications: 175,000 new jobs
Question four
Answer: Among the industries shown in the question, the three job-gaining ones over the past 12 months are:
Mining (64,000 jobs added)
Temporary-help services (383,000 jobs added)
Health care and social assistance (322,000 jobs added)
Question five
Answer: Canada and Japan have a higher share of college-educated adults than the US does. Below is a ranking of the seven nations showing the percentage of adults who have college degrees or higher:
1) Canada (48 percent of adults)
2) Japan (41 percent)
3) United States (40 percent)
4) South Korea (35 percent)
5) Britain (32 percent)
6) Netherlands (31 percent)
7) Germany (24 percent)
Sources used for this quiz: US Labor Department, and MBG Information Services (analyzing Labor Department data)