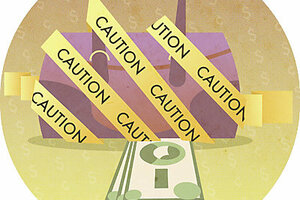 Illustration by Jake Turcotte / The Christian Science Monitor
3.

Yellow: Danger signs

Your checkbook has yellow caution tape wrapped around it – or it should. You're living paycheck to paycheck. Some monthly bills aren't getting paid on time and debt collectors are beginning to call. "At this level, you should start to make changes in your personal financial situation," says Feeney. "One way to start is to find a good financial planner or attorney," who can help identify your debt and then find a way for you to pay it off.