Luxury car glitches: Which of these Top 10 most expensive cars have been recalled?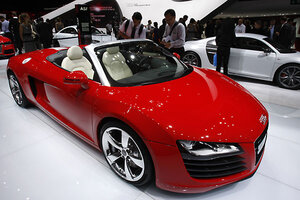 Michel Euler / AP / File
9.

Audi R8 – $138k – never recalled

The Audi R8 has only been around for three years, but in that time, Audi has never had to recall it. The cars are handcrafted in a small-lot factory, producing no more than 15 cars per day, and so far, there have been no recall-worthy problems with the double wishbone forged aluminum chassis, the magnetorheological alternative to shock absorbers, the acoustic parking system, or anything else. The sporty R8 and R8 Spyder have appeared in dozens of music videos, TV shows, and movies, including "Iron Man" and "Iron Man 2," "Transformers: Revenge of the Fallen," and "Dexter."