Groupon and four other firms thrived in recession. Their secret?
Although the recession is technically over, many companies are still struggling to make up for lost profit, customers, and locations. But some companies have come out of the recession better than they went in, thanks to their adjustments to consumer demand and other smart business strategies. Here are five companies that have thrived despite the worst downturn since the Great Depression: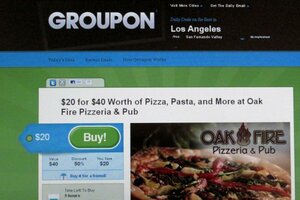 Fred Prouser/Reuters/File
1.

Groupon

Deal-a-day website Groupon achieved the seemingly impossible: It launched in the midst of economic chaos (November 2008), spread to 300 markets in 35 countries (in about two years), rejected a $6 billion buyout from Google (earlier this month), and just announced a plan to raise almost a billion dollars in private funds. The Chicago-based company e-mails daily discounts for local goods or services to each of its 40 million subscribers.

For consumers, the "groupons" can offer substantial discounts: $25 for a $50 coupon at Nordstrom Rack, 50-plus percent off restaurants, museum admission, and the list goes on. Vendors get exposure to new customers. Most, if not all, of the deals are for nonessentials – spas, hotels, and entertainment. Groupon's $500 million annual profit suggests that at half off, even the stingiest savers in stingy times can be convinced to spend. The company's formula has inspired many competitors – LivingSocial and BuyWithMe among them – who hope to profit as well.