Food safety law: Six ways it will make food safer
With the stroke of a pen, President Obama on Tuesday inaugurated the biggest reform in food safety in years. The Food Safety Modernization Act contains changes in rules and procedures that only a bureaucrat could love. Some Republicans threaten to prevent funding its reforms. Still, the law has unusually broad support in Congress, the food industry, and consumer groups. Here are its Top 6 reforms, which will make your food safer: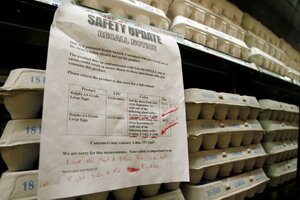 Reed Saxon/AP/File
6.

Mandatory recalls

Until now, the Food and Drug Administration could only recommend that a company initiate a recall. The new food-safety law gives it the power to order one. The FDA must still first give the company the opportunity to take action voluntary. Only if the company doesn't take action can the agency issue its order. "Mandatory recall is very important" in terms of protecting consumers, says Caroline Smith DeWaal, food safety director for the Center For Science in the Public Interest in Washington. "But the trigger is when the companies fail to comply."