Job market's still tough. Seven ways to reenergize your job search.
For America's jobless, the labor market is sending conflicting signals. On one hand, unemployment in December dropped to 9.4 percent, its lowest rate in 19 months, the US Department of Labor reported Friday. On the other hand, a separate Labor survey showed that the economy added only 103,000 jobs, when economists were expecting about 150,000 new nonfarm jobs. What to make of it all? In fits and starts, the economy is staging a very modest recovery, but it may take years before the nation regains the jobs it lost during the Great Recession. To find a job, many unemployed Americans may need to reenergize their own job search. Here are seven ways to do it: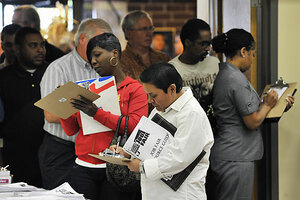 Jim Prisching/AP/File
1.

Job hunt 9-to-5

The only person keeping tabs on your job search is yourself, and staying motivated and persistent can be difficult when you are not getting results. But what about thinking of the job hunt as a 9-to-5 job?

Job seekers who devote hours of commitment to their search see more results in finding employment, says career coach Anita Attridge of the Five O'Clock Club, a national outplacement and career coaching organization based in New York. "The job search today is a full-time job – if you are out of work you should be spending 35 hours a week on searching. If you're not working at this full-time, you will have a tough time."

A full-time effort at improving résumés and cover letters, applying to job postings, and researching the demands of your field are crucial.