Darth Vader Super Bowl commercial: What happens to child stars in ads?
The Darth Vader Super Bowl commercial made six-year-old Max Page an advertising wunderkind even before the public had seen his face. As the pint-sized Darth Vader in the VW ad, Max became an Internet phenomenon for using "The Force," or trying to. The Super Bowl commercial went viral on the Internet in the run-up to the big game. Since the Super Bowl, Max has gotten even more attention. On Monday's "Today" show, he took off his Vader mask, letting America see his face. Here's a look at Max and five other child actors who starred in ads. Can you guess which of the five made the big time?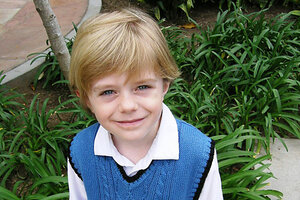 Business Wire/File
1.

Max Page – VW Passat (2011)

The Super Bowl Darth Vader commercial became an Internet sensation before it was aired during the Super Bowl. The ad's producers worked with George Lucas to get the Darth Vader costume right. But those Vader-like moves are all Max.