McLobster rumor? Nah! McDonalds should add these five items.
McLobster rumor: The sandwich, which appears seasonally at some New England and eastern Canadian McDonalds, was supposed to go nationwide. The chain has tweeted that the rumors are false. But that's all right, there are more McDelicacies to be made. Here are the Top 5 items that we'd like to see added to the McDonalds menu.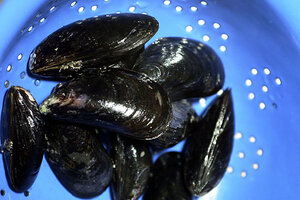 John Nordell / Staff / File
1.

Mussel McNuggets

They're bite-sized, they're dippable, they go well with fries. It's a wonder Mussel McNuggets aren't already on the menu.

The newest McNugget might not be the same cultural experience as the elegant McLobster roll, but it would be an easy transition for all of the seafood-averse chicken eaters out there. Shell them, reconstitute them, fry them up, and serve them with ketchup – they'd look like chicken and taste like it, too, without all those shells and yucky stuff. Who knew shellfish could be so convenient?