Five worst labor disputes in sports
The NFL isn't known for striking. In fact, it hasn't had a major interruption in play since 1987, which may be the reason for its continued popularity, says New York University professor of sports management Robert Boland. As the NFL faces its first labor dispute in decades, here is a look back at the five worst shutdowns in US sports history.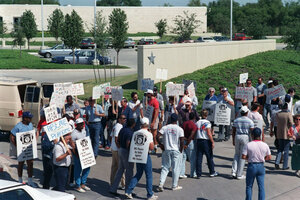 John F. Rhodes/Newscom/File
5.

1987 NFL Strike (Sept. 22 - Oct. 15)

NFL players went on strike for one month in 1987 to gain better free-agency rights. One game was canceled because of the strike, as the NFL hired replacement players to take the field after the strike's first week.

Television ratings dropped by 20 percent during those games, and the NFL ended up paying networks compensation for lost advertising revenue. Players soon returned to work without having won any concessions, not getting true free agency until 1989.