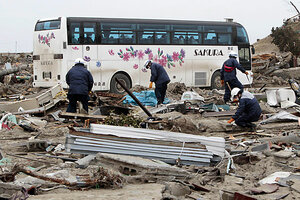 Mark Baker/AP
2.

But beware the short-term emotional impact

When a 6.8 magnitude earthquake hit Kobe, Japan, in January 1995, the Nikkei average fell 16 percent by the end of the first quarter and 25 percent by the end of the second. But the benchmark average had recovered all its losses by January 1996. US markets also fell briefly. The Nasdaq index had lost 2.5 percent by the end of the month, although the losses weren't necessarily linked to the Kobe earthquake.

"The only connection to the bearish market brought by Kobe earthquake we saw in United States was the way currency markets fluctuated on that day affecting global credits which is always significant to global as well as local US business," says Rupert McAllister, senior international credit analyst at Credit-Land.com

"What happened? I think it was the news stories, the stories of human failure, of mistakes, that the Japanese government couldn't handle that earthquake," Robert Shiller, professor of finance at Yale University and chief economist for MacroMarkets LLC, told CNBC last week. "It kind of created a different emotional atmosphere. It brought up reassessments of our general, basic outlook."

The human and physical toll of the most recent earthquake and tsunami looks to be worse than Kobe's disaster. And Japan is ill-equipped to handle the earthquake's financial fallout: It's effectively broke. Debt service as a percentage of tax revenues will rise to 60 percent this year (even with a low interest rates) versus 28 percent in 1995. Japan's Prime Minister Naoto Kan has called this disaster Japan's worst since World War II.

If 1995 is an accurate barometer, consumer sentiment will be dented in the short term, but economic growth should eventually rebound.