Tax filing for the jobless: Five ways to trim your tax bill
Tax filing is never fun, especially for the unemployed, whose income plunged but who still owe taxes. The Internal Revenue Service tried to ease things a bit last year by not fully taxing the unemployment benefits. That offer has expired. Still, there are ways that the unemployed, and newly employed, can lower their taxes this tax-filing season. Here are five of them: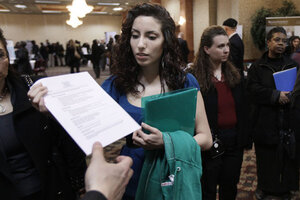 Paul Sancya / AP / File
1.

Deduct your job hunt

Maybe you found a job last year, maybe you weren't so fortunate. Either way, you may be able to deduct some of the money you spent looking for a new job. Whether you were unemployed or just looking to enter a new line of work, you might qualify for deductions this tax-filing season.

First, if you paid a job agency for help, you can deduct that expense. You can also deduct any money you spent preparing and sending out résumés, such as paper and postage. And if you traveled to another place to look for a job, you can deduct travel expenses, as long as the trip really was primarily to look for work.