McDonald's jobs: Can it hire 50,000 workers in a day?
McDonald's jobs to be handed out April 19 include management and crew positions. Many McDonald's restaurants, moving to 24-hour schedule, need more workers.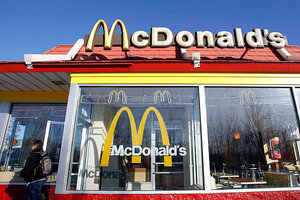 Shannon Stapleton/Reuters/File
McDonald's Corp. is hiring in a big way. On April 19, the fast-food giant hopes to hire 50,000 Americans in a single day.
Those include part-time and full-time crew members as well as managers in locations around the country.
And while flipping burgers may not sound like a big boost to America's job recovery, it's not something to pooh-pooh, either.
"McDonald's average wage is well above the minimum wage, it's in the $8.30 range said Jan Fields on CNN."
And managers have the ability to earn $50,000 per year. "A McJob is one with career growth and endless possibilities," said Jan Fields, president of McDonald's USA, in a press release Monday.
One example is Ms. Fields herself: She started out in an entry-level position. More than half of its franchisees started as crew members.
McDonald's says it needs the extra workers because a growing number of its restaurants are moving to 24-hour operation.
If you're interested in applying, you can visit a participating local McDonald's location or apply online.